Adding Pet Room Status to Guest Room
The Value of having a Notification that a Room has a Pet



The hotel team can exercise caution upon entering the room to avoid the possibility of the pet escaping. Plus, there are people that have
adverse, allergic reactions to animal dander.
Therefore, the hotel team can be better prepared for any cleaning or maintenance issues associated
with a guest room that has or has had a Pet
.

Policies regarding accessing a room with a pet (being kenneled) are up to hotel management.
How to Access the Option to Flag the Room Status with Pet
There are several access points to flag the room status as having a Pet in the room. They are indicated in the screenshot example below.

The platform
allows for updating an existing task or to flag the room as having a Pet when a new task is created.

After the initial icon access, if you are updating an existing task, select the room number first, then the platform will roll to the task screen and
the user will be able to flag the status of
PetRoom.
If
creating a new task
, the task screen will also have the option to flag the room as having a Pet.
As with all new task entries and task edits, select
Submit
to lock in the entry.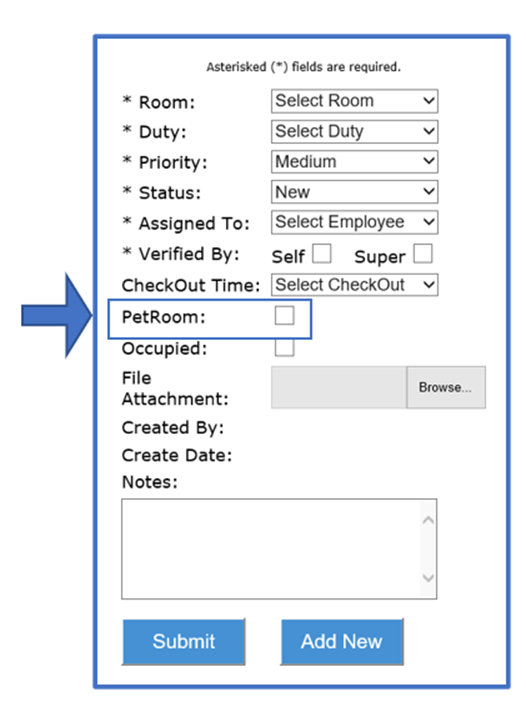 Related Articles

Room Attendant Functions in Assigned Rooms

My Tasks After the Room Attendant logs into MOP, they can select My Tasks to show the room assignments for the day. If a room needs to be cleaned as a High Priority, it can be flagged as such and will show up highlighted in Red. Edit Tasks After any ...

Clean and Disinfect a Guest Room

In today's world of travel, the public can express concerns about a room not only being Clean but Disinfected. Room Attendants can be assigned to not only clean a room but complete a checklist that identifies sensitive, touchpoint areas in a guest ...

Product Quality - Room Inspection

Room Inspect Icon The icon is accessible to the Site Admin and Housekeeping Supervisor. Utilizing the Room Inspection icon in MOP provides a means to conduct guest room inspections as well as a way to document those inspections. The format is based ...

Error Message After Assigning Guest Rooms for Cleaning - Integrated Environment

Error After Assigning Guest Room At times, an error message is received after assigning guest rooms to the Room Attendants for cleaning. This error message will only occur at a site that has its Property Management System integrated with MOP. There ...

Add Task

This feature allows specific housekeeping-related tasks to be entered for the room selected. Site Admin, Front Desk, Housekeeping Supervisors, and Maintenance can all assign tasks within MOP. A - Required Fields - Room: Select room or area to assign ...