Assigning Head Housekeeper Blocks/Floors of Rooms to Inspect
Head Housekeeper Assignments
MOP allows for blocks or floors of rooms to be assigned for people to inspect. This works especially well for large hotels that may have more than one Housekeeping Supervisor to check the room's status.


Note: The platform makes allowances for four different supervisors to inspect.

To assign
You can assign multiple associates to inspect rooms. Select HdHkpr Assignments.


The screenshot below shows the options available after selecting HdHkpr Assignments.

Using the drop-down window that reads Select Employee select an associate's name, then in the first box put the beginning room number of the sequence, and in the second box, put the end room number of the sequence.


Note: After the first entry, the platform will default to the next available room number. You can type over and override it to begin a different room number sequence.
To Complete
Select
Create
to complete the assignments.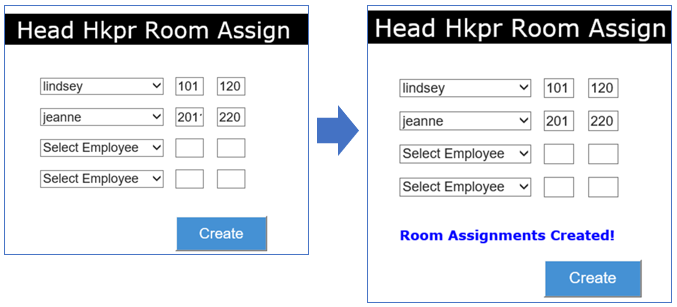 What about on the Housekeeper Side?
When the Housekeepers select My Tasks, they will only have their assigned rooms or floors to inspect.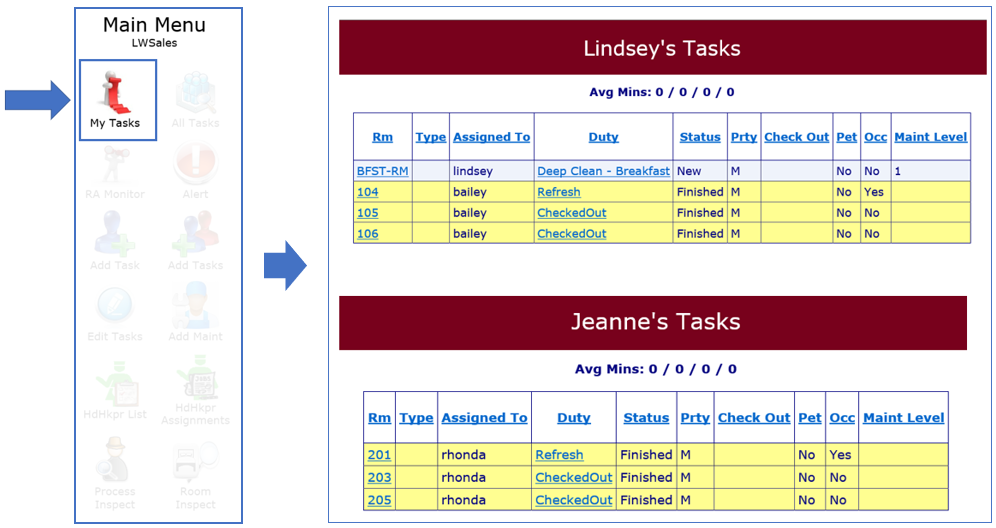 Related Articles

Room Assignments - Integrated With ASI

MOP is fully integrated with ASI Property Management System. Room Assignments for the day are completed in MOP. Assignment steps are listed below. Select Add Tasks The platform will roll to the options of assigning rooms for the day. Select Add ASI ...

Room Assignments - Integrated with OPERA

MOP is fully integrated with OPERA. The preferred method of assigning rooms is to complete the assignments in OPERA then import them into MOP. Rooms can be assigned directly through MOP as the systems will sync. If the PMS is down, MOP allows for ...

Error Message After Assigning Guest Rooms for Cleaning - Integrated Environment

Error After Assigning Guest Room At times, an error message is received after assigning guest rooms to the Room Attendants for cleaning. This error message will only occur at a site that has its Property Management System integrated with MOP. There ...

Manual Room Assignments (Add Tasks)

This section is where you can add Manual Room Assignments. Assign Rooms - Employee: Select the Employee you wish to assign the room to - Verified By: Defaults to what is set up in the MOP profile. If needed, you can override this and select the other ...

Room Attendant Functions in Assigned Rooms

My Tasks After the Room Attendant logs into MOP, they can select My Tasks to show the room assignments for the day. If a room needs to be cleaned as a High Priority, it can be flagged as such and will show up highlighted in Red. Edit Tasks After any ...