How to Utilize the MOP by VM Support Knowledge Base and Electronic Ticketing Platform
MOP by VM Support is a tremendous resource for Clients/Subscribers to MOP. This article will give you an overview of its contents and how to best utilize its resources.

Our goal is to provide you with an easy access point to get help when needed and to give you a library of information that is EVERYTHING MOP!

Home Page
The home page is your starting point. Primary areas are as follows:

Let's go over these primary areas.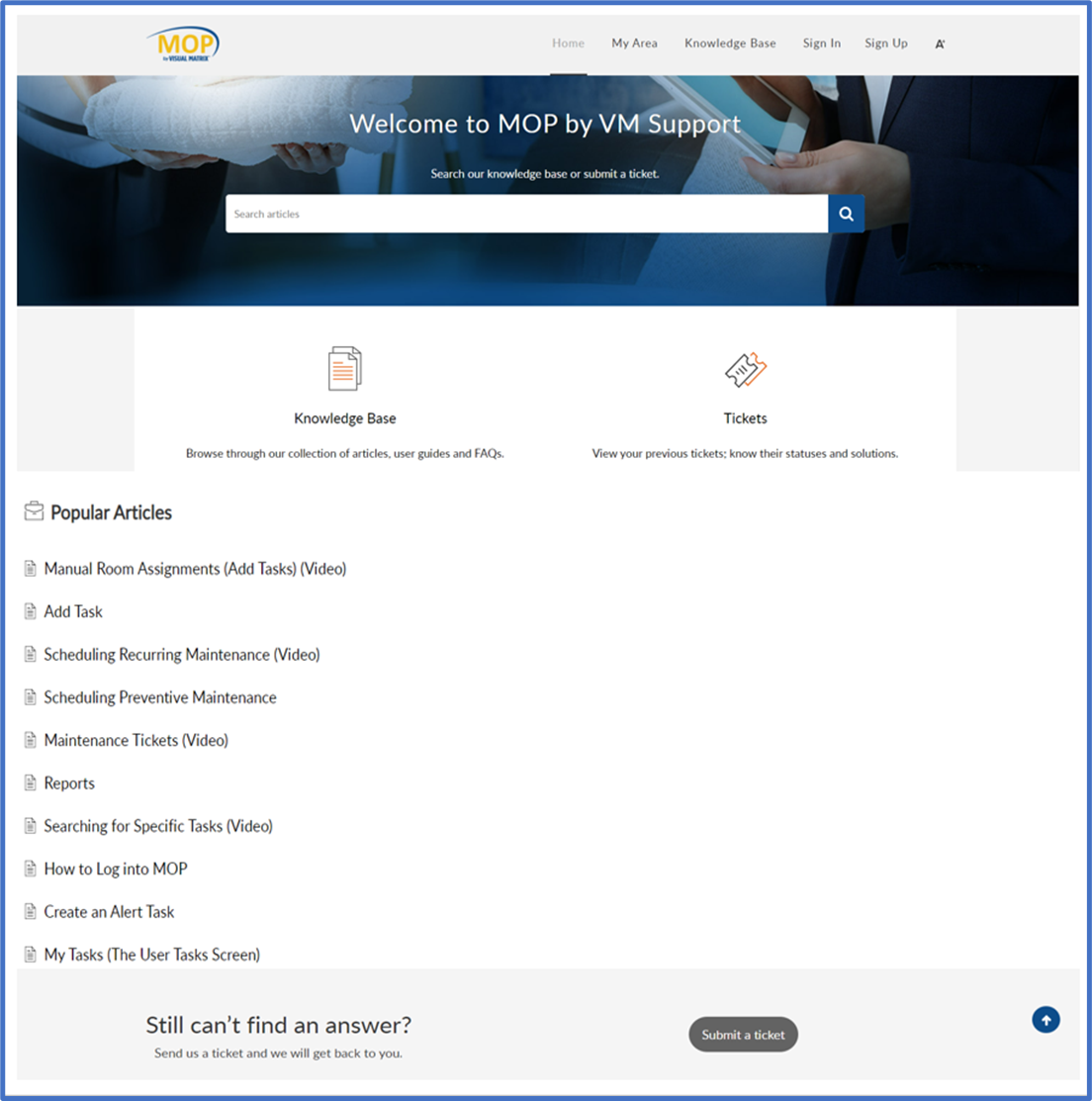 Sign In - Sign Up
To
access the
full benefits of the site, you will need to
Sign Up
. While you are still able to access and research articles without signing up,
enrolling will ensure your assistance request with the MOP gets routed in the most timely manner. As such,
signing up is your best resource
.
Tickets go directly to MOP agents
who can then address and track your issues more readily.
You will also be able to see status updates on your ticket submissions and add additional notes or information as well.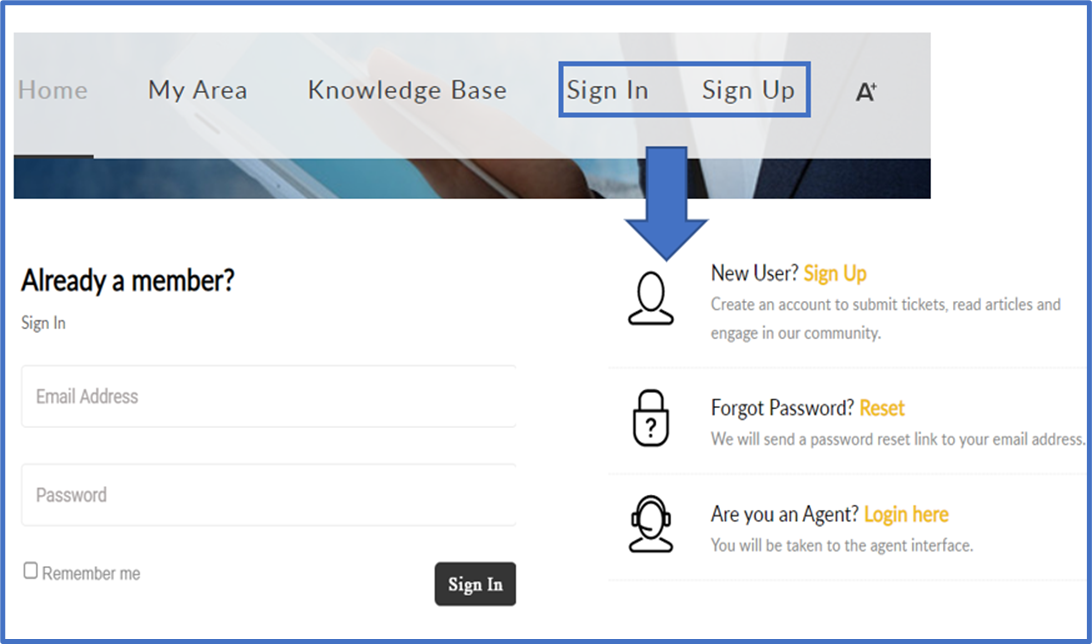 When signing up as a new member - the example below shows the sequence:

- Thank You for Signing Up > Notice of Pending Email

Once the email arrives with the notice to
Accept The Invitation
, the example below shows the
final step of the Sign Up process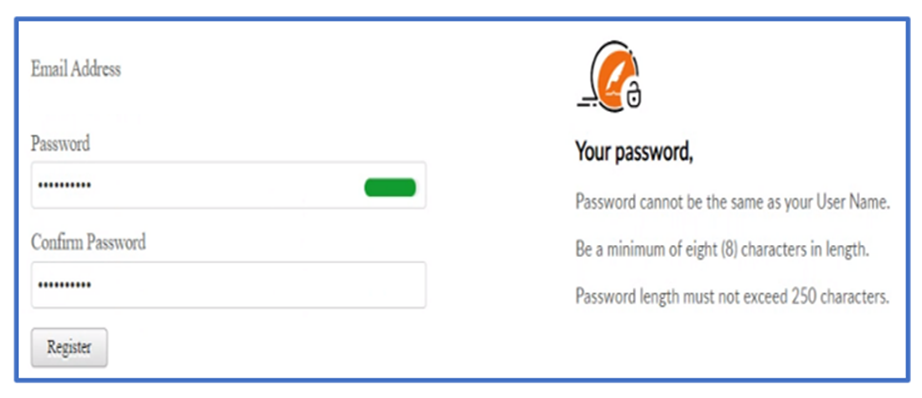 The platform rolls to the actual site. From that site, you have full access to:
- Knowledge Base

- My Area: where Tickets,
both new and pending, are located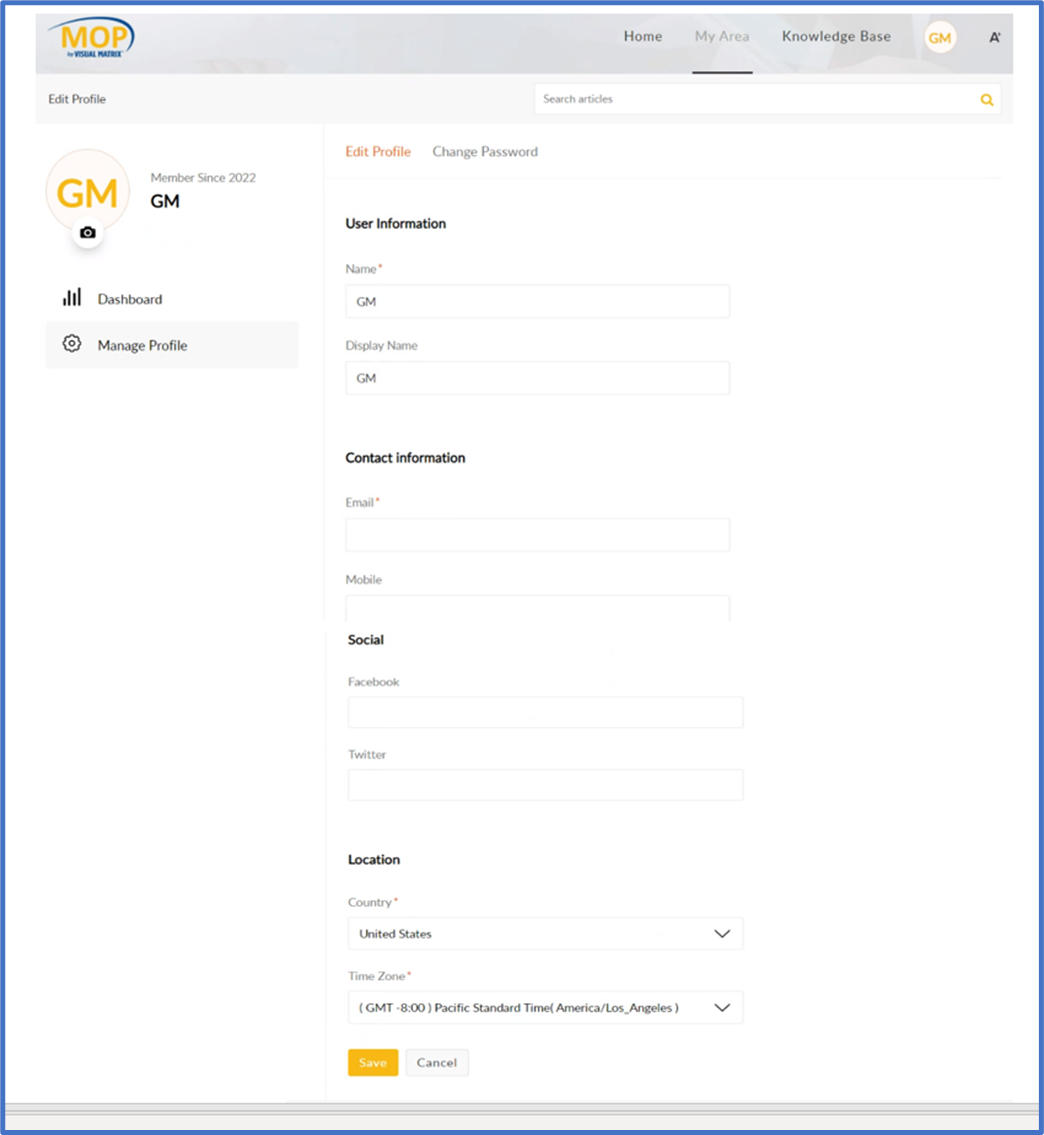 Tickets



The example below shows the screen you'll see when
My Area
is selected.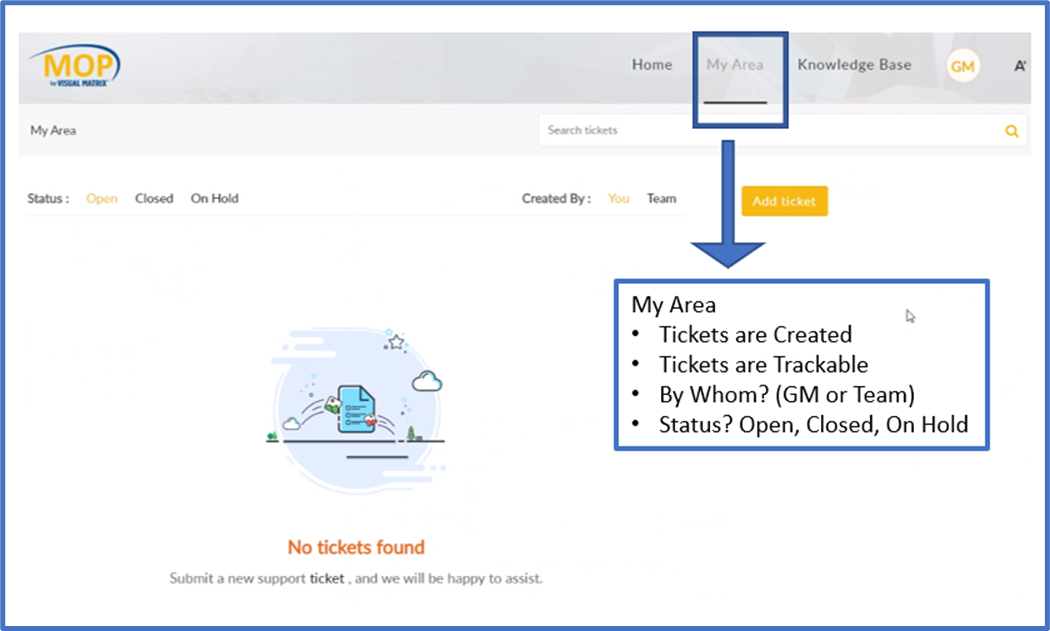 When you select
Add a Ticket
, the platform rolls to the form where you will need to complete the information regarding the
issue.
On the Ticket Form,
you must include a Subject
. There is also a large area to provide a
Description
of the issue. Please be as detailed as possible.
If you're able and believe it can assist the support team, you can
Attach a File
or image to the ticket for documentation.
Select
Submit
when all information is filled in. The Ticket goes directly to the support agents who are monitoring the Site.
No more waiting "on hold" on the phone to talk about the issue, it's already on record as soon as you submit the ticket.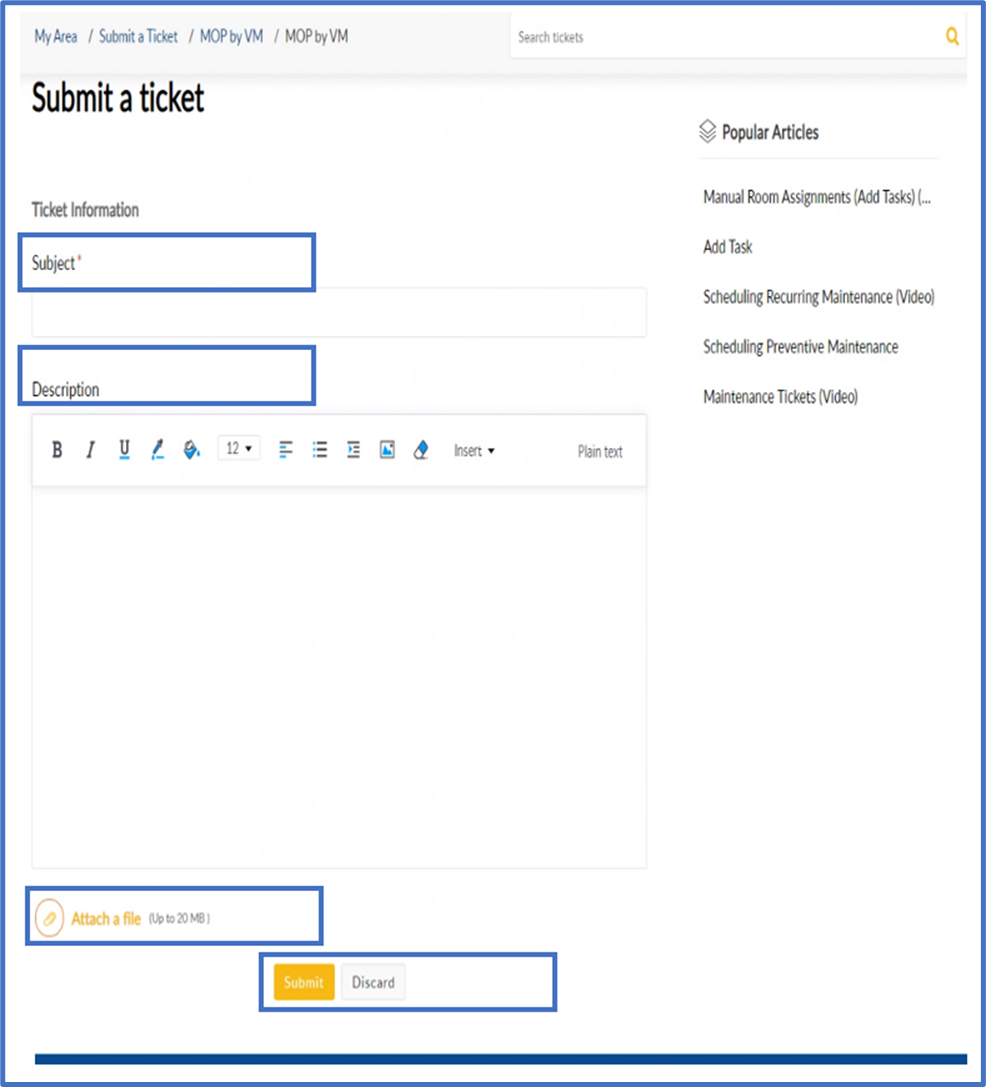 Knowledge Base



The MOP
Knowledge Base
has 7 main topic headings and each has a varying amount of categories underneath.
Some articles have videos associated with them.
There are also 2 additional headings titled
Recent Articles
and
Popular Articles
The 7 main topic headings are as follows:
- General:
Areas that are not necessarily specific to any one department
- Admin
:

Covers areas of MOP that are primarily managed by the Site Admin (GM or Ownership)
- Tasks
:

Various types of tasks - from cleaning to maintaining to taking care of a special request
- Housekeeping:
All things relating to the Room Attendant and the Housekeeping Supervisor

- Maintenance
:

Work orders, preventive maintenance, and general maintenance topics are found here
- FAQs
:

Frequently Asked Questions (keep them coming! that is how we improve)
- Spanish Videos:
Videos of various functions in MOP but the narrative is in Spanish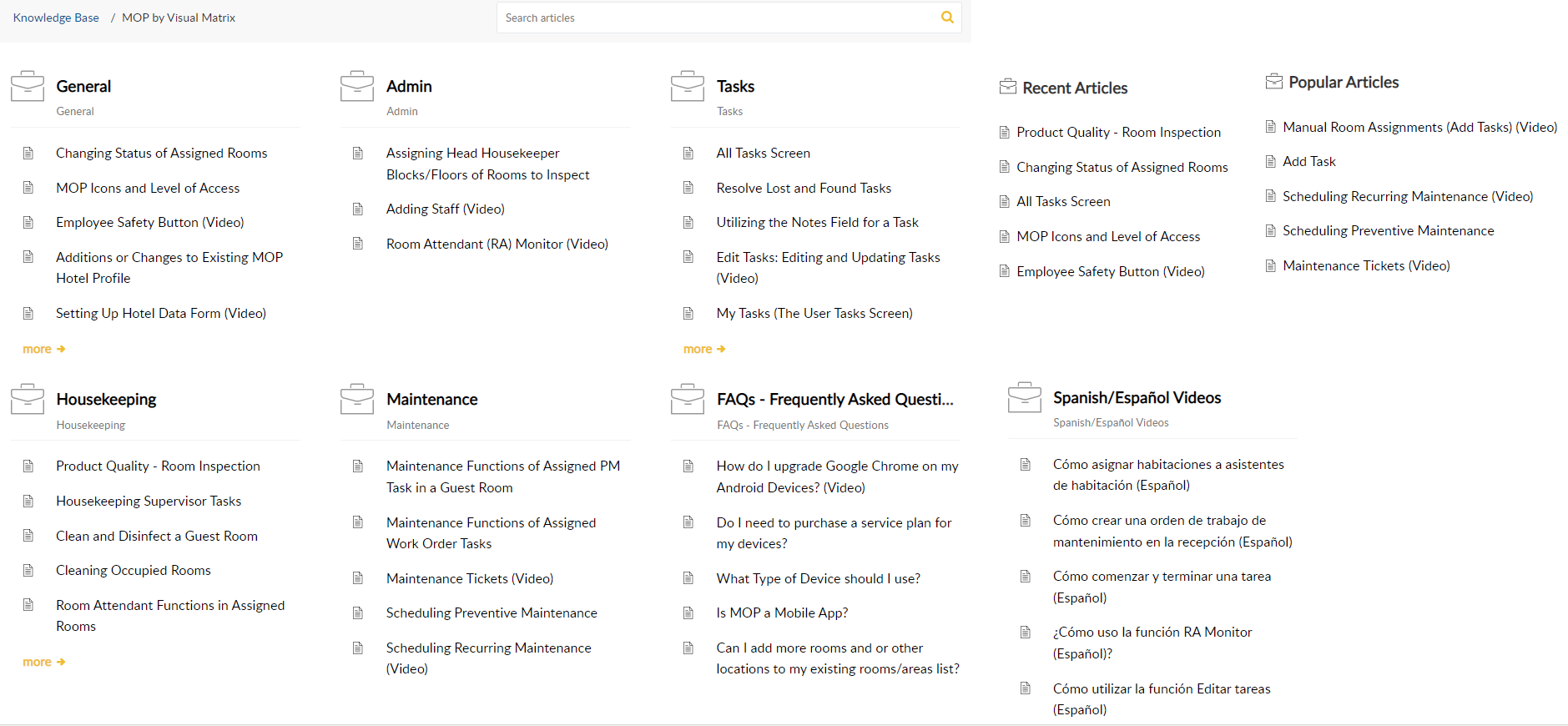 Article Search



The Knowledge Base is a wealth of information. The search engine can help you find articles on what you need to refresh your
memory and/or to train your team on a particular task or process in MOP.
There are two access points in the Site to search articles, the Home page and the other is available after you select Knowledge Base.

Each article has been assigned
"tags"
or
"keywords"
to help users with their search. You may have heard the term

"Less is More"
. When it comes to tags or keywords, the user must keep that simple phrase in mind. Be very specific with

words
to help you with your search. Again, less is more. If you type in a sentence to search, every word may produce many articles individually
.
In the example below, you will see the search results of one or two keywords
. The search is for articles that discuss DND rooms.
The first search had too many keywords "how to mark a room as dnd" and pulled up 44 articles and most of them would

not even discuss DND. The search picked up each of the words typed in as keywords to search for: room, mark, how-to, etc.
The second search had only one keyword, "dnd" and was limited to 3 articles as a result.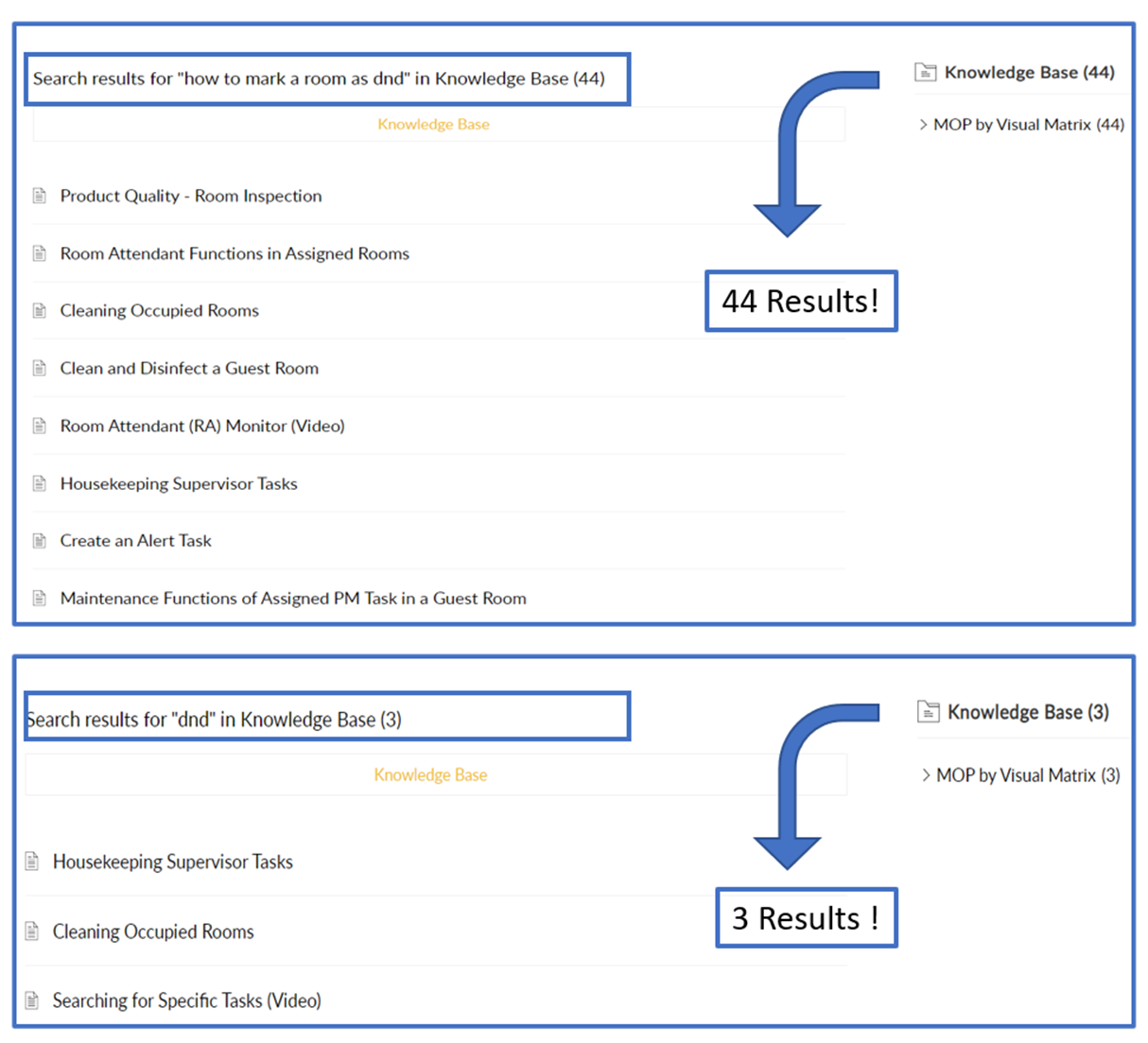 Please let us know how we can better support you through the MOP Support site

Related Articles

What is MOP? (Overview)

QUICKLINKS: TUTORIAL VIDEO | VM UNIVERSITY COURSE What is MOP - MOP is an acronym for Mobile Operating Platform. - MOP allows its users to have enhanced communication in their day-to-day duties and responsibilities - Is not an APP - No download is ...

Inspection Search

QUICKLINKS: VM UNIVERSITY COURSE Inspection Search is accessed by the Housekeeping Supervisor or Site Admin. Select the Inspection Search icon Filter Options Room: All or a specific room Room Attendant: All or a specific Room Attendant Inspected ...

Is MOP a Mobile App?

No. MOP is a web-based system. It is a cloud-based application, no downloads necessary.

VM MOP Icons and Descriptions

The charts below provide the names, which department has access, and a brief description of the Icons in VM MOP.

How can I reach Technical Support?

We are committed to helping your MOP usage be a success. Your success is our success! Should you need us, we are here for you! The ways you can contact us are listed below. You can reach technical support: - by email at support@vmmop.com; - by ...