Manual Room Assignments (Add Tasks)
This section is where you can add Manual Room Assignments.

Assign Rooms
- Employee: Select the Employee you wish to assign the room to
- Verified By: Defaults to what is set up in the MOP profile. If needed, you can override this and select the other option for that one day of assignment

- Duty: Four drop-down windows that all have the same room status selection options from Due Out, Checkout, Refresh/Stayover

- Rooms: Enter room numbers for checkouts and so on

- Add Tasks:
Assigns the days rooms to room attendant selected
- Add New: Allows the user to assign more rooms to another room attendant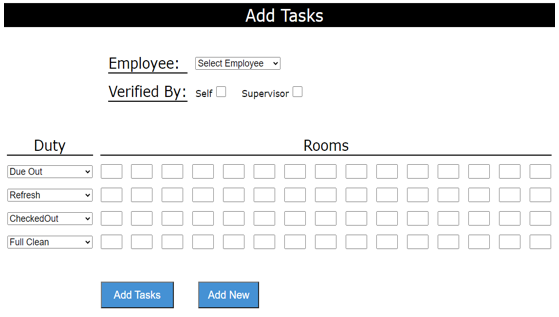 Related Articles

Room Assignments - Integrated With ASI

MOP is fully integrated with ASI Property Management System. Room Assignments for the day are completed in MOP. Assignment steps are listed below. Select Add Tasks The platform will roll to the options of assigning rooms for the day. Select Add ASI ...

Room Assignments - Integrated with OPERA

MOP is fully integrated with OPERA. The preferred method of assigning rooms is to complete the assignments in OPERA then import them into MOP. Rooms can be assigned directly through MOP as the systems will sync. If the PMS is down, MOP allows for ...

Room Assignments - Integrated with SynXis (Video)

How to Assign Rooms for Synxis Integrated PMS MOP is fully integrated with SynXis. Room assignments for the day are first created in the Snyxis PMS, then are imported into MOP. If the rooms are imported successfully, there will be a pop-up ...

Room Attendant Functions in Assigned Rooms

My Tasks After the Room Attendant logs into MOP, they can select My Tasks to show the room assignments for the day. If a room needs to be cleaned as a High Priority, it can be flagged as such and will show up highlighted in Red. Edit Tasks After any ...

My Tasks (The User Tasks Screen)

Depending upon the scope of a team member's duties and responsibilities, each user in MOP will have varying icon access. Each user regardless of their position at the hotel will have access to the My Tasks icon. Once the My Tasks icon is ...