My Tasks (The User Tasks Screen)
Depending upon the scope of a team member's duties and responsibilities, each user in MOP will have varying icon access.

Each user regardless of their position at the hotel will have access to the My Tasks icon.

Once the
My Tasks
icon is selected,
the signed-in user will be able to review the tasks currently scheduled for them to complete and/or follow up on.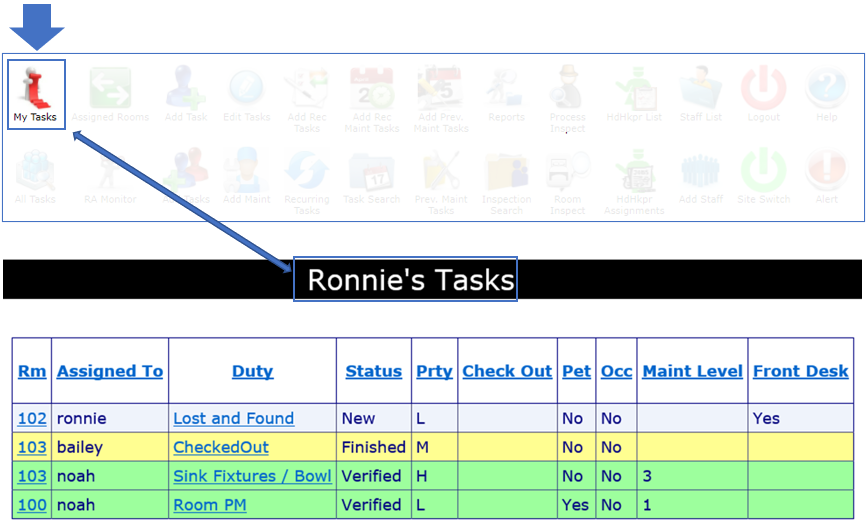 Administrator

Their board primarily relates to tasks for recurring maintenance or front desk assignments.

Room Attendants

Their board shows rooms to be cleaned and any special assignments in MOP.

Housekeeping Supervisor

Can view/update, rooms to inspect, special assignments in MOP.

Maintenance

Their board shows work orders, PMs, special assignments in MOP.

Front Desk

Their board show Alerts (lost and found), special assignments in MOP, view and/or update.

Related Articles

All Tasks Screen

What is the All Task Screen? The All Tasks screen is a landing page depicting all task assignments for the day. It is accessible to Site Admin, Front Desk, Housekeeping, and Maintenance Supervisors. When rooms are assigned, maintenance work orders ...

Add Task

This feature allows specific housekeeping-related tasks to be entered for the room selected. Site Admin, Front Desk, Housekeeping Supervisors, and Maintenance can all assign tasks within MOP. A - Required Fields - Room: Select room or area to assign ...

Tasks/Duties Tracked in MOP

The Mobile Operations Platform, commonly known as MOP provides thorough details of the tasks/duties created and completed by its users. The details of any activity in MOP can be accessed for a single day or for a weekly or monthly roll-up. See ...

Searching for Specific Tasks (Video)

Allows users to view the tasks within a specific time frame for a single day or specific block of days. It is accessible from two areas. The stand-alone icon (Task Search) on the All Tasks bar or through Reports Make a Search - Assigned ...

Edit Tasks: Editing and Updating Tasks (Video)

This section allows the user to view and edit the tasks currently scheduled for the day. 1- Edit Select Edit to enable editing (changes the grey out) Edits can be made under various columns such as: - Self Verify or Supervisor Verity (the ...