Utilizing the Process Inspection

This icon allows the observation of a Room Attendant cleaning the room. The goal in following a specific order or steps in cleaning the

guest room ensures no item or area is missed and promotes consistency in the room cleaning process with your team.


The observer/inspector will select the
Room Number
and the name of the
Room Attendant
being observed.
The form has 10 primary areas and cleaning steps with each area having varying amounts of sub-categories.

The process
starts with a clean, organized, and properly stocked cart and ends with a "last look"
of the guest
room ensuring that it is clean, organized, and has no maintenance issues.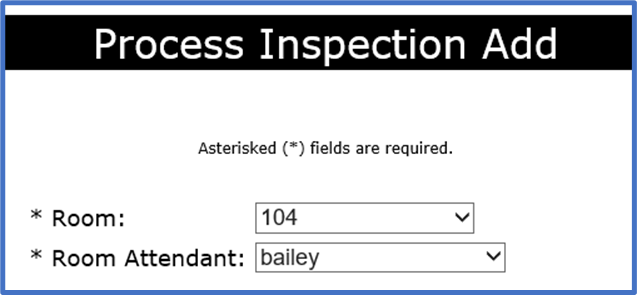 Process Inspection Scoring
The
observation is conducted in a vacant/dirty room.
The score sheet will begin with all 31 items missed as one will assume that
everything is dirty and broken. As the
Room Attendant
properly completes the cleaning process in the correct order, the items missed, if any are left unchecked.
The Pass or Fail decision is at the discretion of the subscriber except for three areas deemed as auto-fail.

The auto-fail items are as follows:
Failure to check the U-bolt/Dead Bolt - Guest security is in question if not completed

Extreme Contamination - Using a rag to clean the coffee maker that was just used to clean the toilet

Failure to Open and Check Drawers - Items of the previous guest left in the drawer(s)
Illustrated below, you will find some examples of the scoring. Notes are utilized for clarity in the scoring process.
Example #1 - Score at the beginning.

Example #2 - All boxes have been completed from the 10 key areas, however, an auto-fail was flagged because of Failure to Open and Check Drawers

Example #3 - Four items were missed and scored as passing.