Changing Status of Assigned Rooms -Video
Assigned Rooms
The icon Assigned Rooms allows the user to have a more simple format to change the status of assigned rooms.


Reassigning Rooms
Once
Assigned Rooms
is selected, the screen changes to one that reflects columns of room numbers and their status.
Select Edit Form, then use the drop-down window to change the status of the room selected.

Once the change is selected, press Process Updates.

In the example below, the status for room 105 was changed from a Refresh (stayover) to a Checkout.

That change will also be pushed out to the Room Attendant assigned to the room.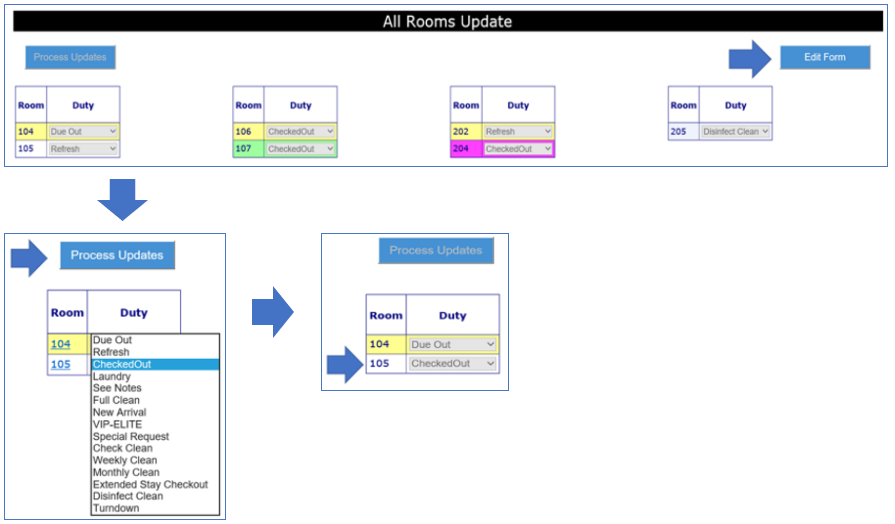 Tutorial Video
Related Articles

Room Attendant Functions in Assigned Rooms

My Tasks After the Room Attendant logs into MOP, they can select My Tasks to show the room assignments for the day. If a room needs to be cleaned as a High Priority, it can be flagged as such and will show up highlighted in Red. Edit Tasks After any ...

Edit Tasks: Editing and Updating Tasks (Video)

This section allows the user to view and edit the tasks currently scheduled for the day. 1- Edit Select Edit to enable editing (changes the grey out) Edits can be made under various columns such as: - Self Verify or Supervisor Verity (the ...

Assigning Head Housekeeper Blocks/Floors of Rooms to Inspect

Head Housekeeper Assignments MOP allows for blocks or floors of rooms to be assigned for people to inspect. This works especially well for large hotels that may have more than one Housekeeping Supervisor to check the room's status. Note: The platform ...

Product Quality - Room Inspection

Room Inspect Icon The icon is accessible to the Site Admin and Housekeeping Supervisor. Utilizing the Room Inspection icon in MOP provides a means to conduct guest room inspections as well as a way to document those inspections. The format is based ...

Housekeeping Supervisor Tasks

Throughout the day, the Housekeeping Supervisor receives updates in the MOP regarding Tasks completed that need inspection and verification. Options Available The screenshot below is an example of the Tasks with pending inspections/verifications. ...