Room Attendant Functions in Assigned Rooms
My Tasks
After the Room Attendant logs into MOP, they can select
My Tasks
to show the room assignments for the day.
If a room needs to be cleaned as a High Priority, it can be flagged as such and will show up highlighted in Red.


Edit Tasks
After any task assignment,
you can edit the task.
Select
Edit Tasks
to change a room to High Priority. Use the drop-down window to make the changes.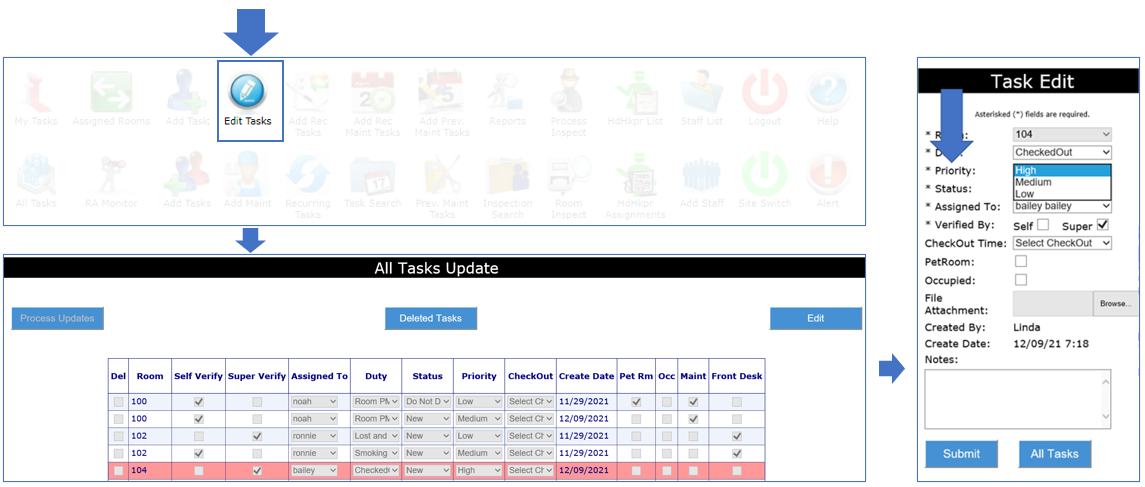 Cleaning Rooms
Select a room number and then select Start.

Selecting Start will create a timestamp and will show up on the All Tasks screen. You can see where the associate is currently working and when they started cleaning the room.

Maintenance and Alerts
If the room has a work order, select Maintenance to create the work order. If there is a lost and found item left in the room, select Alert.

Select Finish when the room cleaning is complete. Selecting Finish creates a second timestamp entry that will show the total time it took to clean the room.


Adding Notes as needed in the Notes field allows everyone to be better informed regarding the room status.
Additionally, ensuring that the Housekeeping Supervisor verifies the status of the room provides a second look to ensure the room is guest-ready.
Related Articles

Maintenance Functions of Assigned Work Order Tasks

When Maintenance team members log into MOP, they will see any tasks assigned to them. Tasks could be guest room work orders created by a Room Attendant, work orders created by a Front Desk team member, or by any other employee that has access to ...

Housekeeping Supervisor Tasks

Throughout the day, the Housekeeping Supervisor receives updates in the MOP regarding Tasks completed that need inspection and verification. Options Available The screenshot below is an example of the Tasks with pending inspections/verifications. ...

All Tasks Screen

What is the All Task Screen? The All Tasks screen is a landing page depicting all task assignments for the day. It is accessible to Site Admin, Front Desk, Housekeeping, and Maintenance Supervisors. When rooms are assigned, maintenance work orders ...

My Tasks (The User Tasks Screen)

Depending upon the scope of a team member's duties and responsibilities, each user in MOP will have varying icon access. Each user regardless of their position at the hotel will have access to the My Tasks icon. Once the My Tasks icon is ...

Product Quality - Room Inspection

Room Inspect Icon The icon is accessible to the Site Admin and Housekeeping Supervisor. Utilizing the Room Inspection icon in MOP provides a means to conduct guest room inspections as well as a way to document those inspections. The format is based ...