The Site Administrator is the only staff member who is allowed to schedule a preventative maintenance item.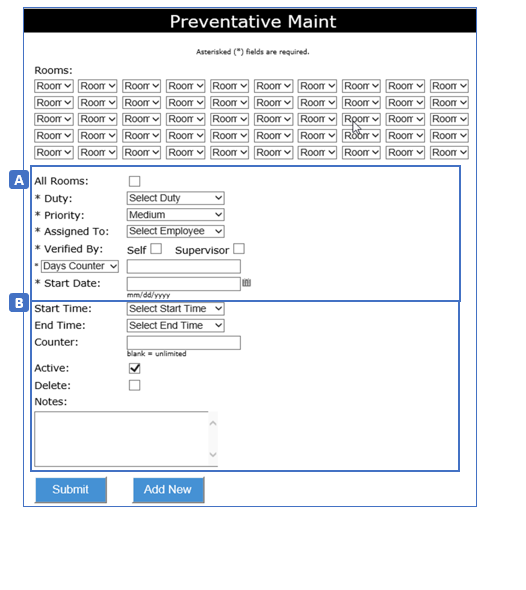 A- Required Fields



Room or All Rooms: You can select one room, a series of rooms, or all rooms

Duty: Select duty

Priority: Defaults to medium but can be modified to another priority level

Assigned To: Select the staff member who will complete the task

Verify By: Defaults to the associate who was set up in their staff profile (either Self verify or Supervisor verify) but can be changed for the current Preventative Maintenance task

Days Counter or Days Rented: Days Counter Indicates the frequency of the task ( i.e 7 would be every 7 days, 30 would be every 30 days). Days Rented will schedule based upon the number of occupied days or check-outs

Start Date: Select the date you want to begin the task cycle.

B- Optional Fields



Start Time and End Time: Sets a parameter for the task to be completed

Counter: Leave blank if you want the task to continue indefinitely or put in 1 if you only want it on one cycle

Active and Delete: Task will remain Active until Delete is selected

Notes: Up to 256 characters for additional details.

Submit: Creates the Task.

Add New: After you select Submit to create a task, selecting Add New allows you to create another task.


Note: Submit must be selected after each task creation before adding a new task.
All maintenance tasks assigned are viewable in Reports.