The Mobile Operations Platform, commonly known as MOP provides thorough details of the tasks/duties created and completed by its users.

The details of any activity in MOP can be accessed for a single day or for a weekly or monthly roll-up.

The activities are documented
based upon the selections made on the Task entry screen and with the selection of the Start and Finished icons
of the task an associate has been assigned.
The most common tracking data is as follows:
The Task, Who Assigned the Task, Associate Who Started/Finished a Task, and Time Stamps of the Task.
Reference the screenshots below that reflect data entry points that are used to create subsequent tracking.
The Task/Duty
The term Task is also associated with the term Duty. Task/Duty is more commonly associated with cleaning, repairing, or maintaining n area or item.

Who Assigned the Task/Duty
A logged-in user who Assigns a Task will have their name automatically associated as the creator of the task once Submit is selected to
create the Task. The name of the person who assigned the task
cannot be altered
in MOP.
Associate Who Was Assigned a Task/Duty
If an associate was assigned a task and was unable to complete it, the task/duty can be reassigned to another associate.

The task will then be associated with a new associate and will not associate the original name in any way to the task.

Time Stamps
When
Submit
is selected to save a Task, a timestamp is automatically entered. When an associate is assigned a task and they are
ready to begin,
they must select Start.
When the task is completed, they must select Finished. In both instances of Start/Finished, MOP records that Timestamp accordingly.

The screenshots below are example screens in MOP.

Note on the Task Edit example, Created By and Created Date is auto-populated after Submit is selected.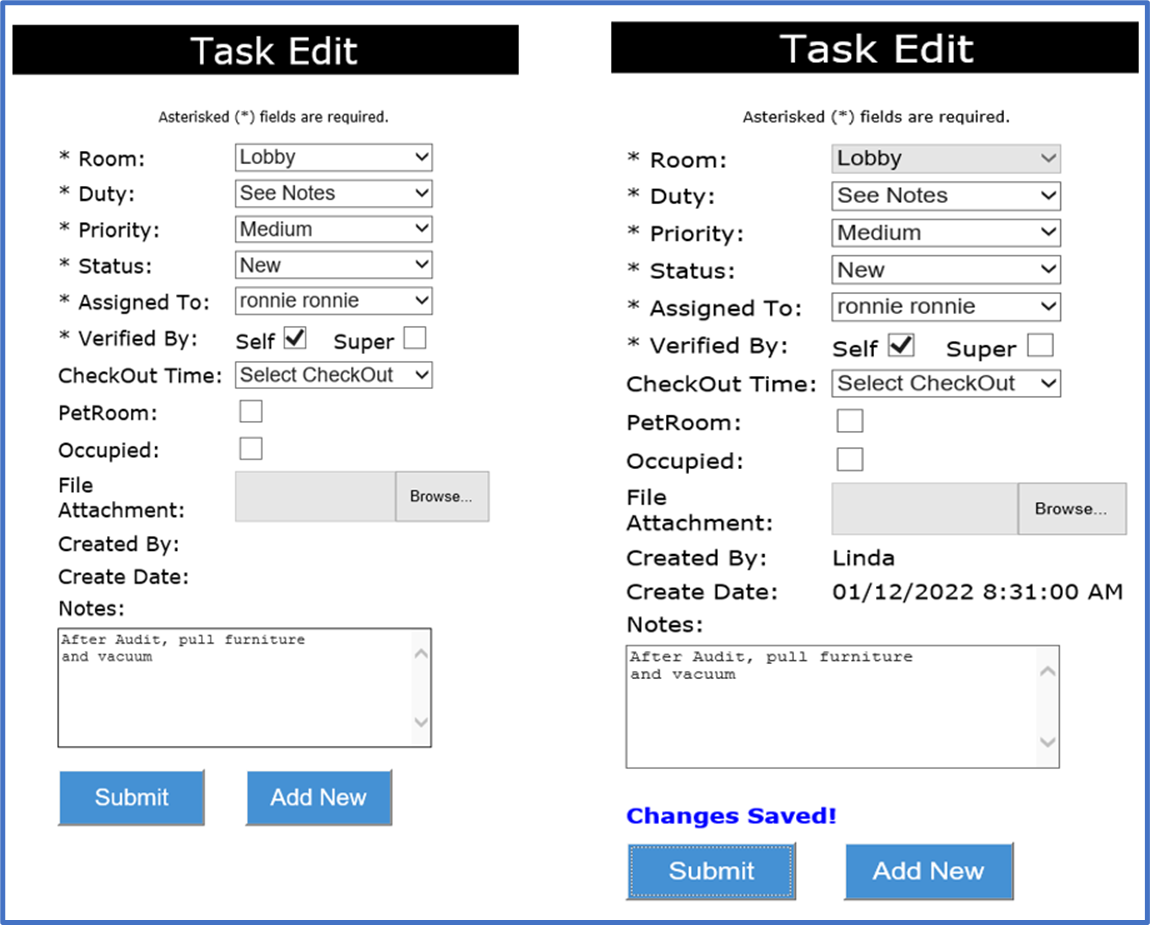 Note on the All Tasks example, Ronnie's task has had Start/Finished time stamps added.