Utilizing the Notes Field for a Task
Any task that is assigned in MOP has the option to add additional notes about the task.

Notes can be added by any associate such as the person who created the task, the person assigned to the task, or the person who inspected the task.

Notes can enhance communication and provide clarity of the task.

The Notes field in any task allows 262 characters. Be specific and concise!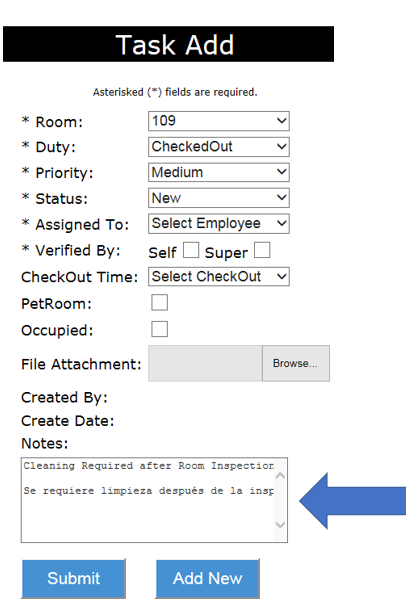 Related Articles

Add Task

This feature allows specific housekeeping-related tasks to be entered for the room selected. Site Admin, Front Desk, Housekeeping Supervisors, and Maintenance can all assign tasks within MOP. A - Required Fields - Room: Select room or area to assign ...

Manual Room Assignments (Add Tasks) 🎥

QUICKLINKS: TUTORIAL VIDEO | VM UNIVERSITY COURSE Room assignments from the previous day will still be reflected in MOP until the new room assignments for the current day are assigned. Once rooms are assigned for the current day, the previous ...

My Tasks (The User Tasks Screen)

Depending upon the scope of a team member's duties and responsibilities, each user in MOP will have varying icon access. Each user regardless of their position at the hotel will have access to the My Tasks icon. Once the My Tasks icon is ...

Searching for Specific Tasks (Video)

Allows users to view the tasks within a specific time frame for a single day or specific block of days. It is accessible from two areas. The stand-alone icon (Task Search) on the All Tasks bar or through Reports Make a Search - Assigned ...