Preventive Maintenance Tasks
The Preventive Maintenance Task is only accessible by the Site Admin.

Once selected the icon rolls to a list of scheduled preventive maintenance tasks. The list can be sorted by tasks
that are either scheduled based upon a number of days frequency or from a number of days a room has been occupied.

In the example below, the list was sorted by tasks scheduled for a frequency based upon the number of days. The other option of tasks
scheduled based upon a number of occupied days would be managed the same way.
Task ID 110000133 was selected for review.

The platform rolls to the form used to schedule the task.

The room scheduled was MTG (meeting room),
The
duty
was flagged as
See Notes.
The Notes make reference to checking the Meeting Room logbook and to set up the room and services.
Edits/changes can be made. As always within MOP, click Submit to save edits/changes.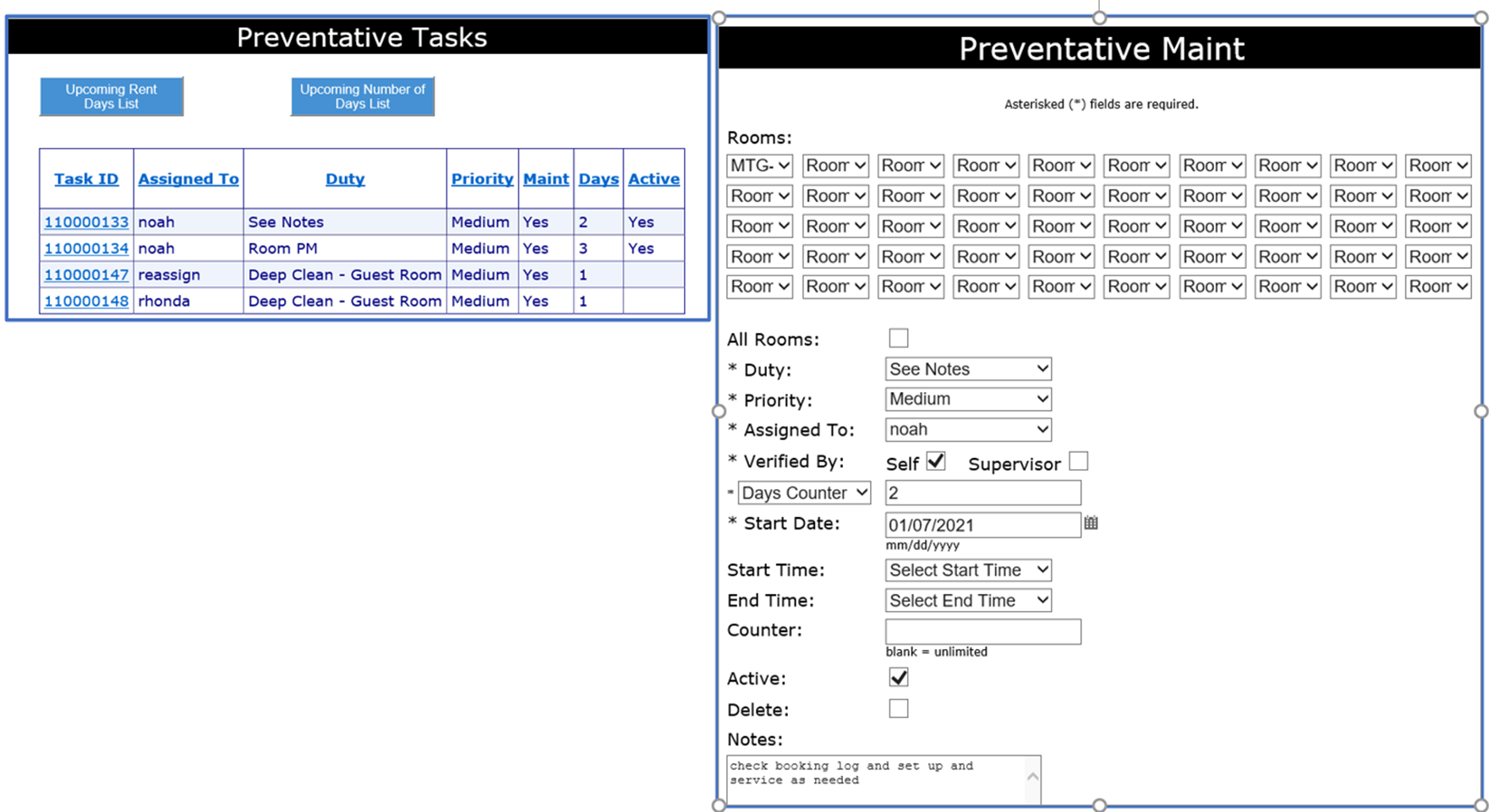 Related Articles

Scheduling Preventive Maintenance

The Site Administrator is the only staff member who is allowed to schedule a preventative maintenance item. A- Required Fields Room or All Rooms: You can select one room, a series of rooms, or all rooms Duty: Select duty Priority: Defaults to medium ...

Maintenance Functions of Assigned Work Order Tasks

When Maintenance team members log into MOP, they will see any tasks assigned to them. Tasks could be guest room work orders created by a Room Attendant, work orders created by a Front Desk team member, or by any other employee that has access to ...

My Tasks (The User Tasks Screen)

Depending upon the scope of a team member's duties and responsibilities, each user in MOP will have varying icon access. Each user regardless of their position at the hotel will have access to the My Tasks icon. Once the My Tasks icon is ...

Scheduling Recurring Maintenance (Video)

Only the Site Administrator is allowed to schedule Recurring Maintenance Tasks. A- Required Fields Room: Select room number or area of the hotel; Duty: Select duty Priority: Defaults to medium but can select another level Assigned To: Staff member to ...

Searching for Specific Tasks (Video)

Allows users to view the tasks within a specific time frame for a single day or specific block of days. It is accessible from two areas. The stand-alone icon (Task Search) on the All Tasks bar or through Reports Make a Search - Assigned ...